ISO 31800, entitled Faecal sludge treatment units — Energy independent, prefabricated, community-scale, resource recovery units — Safety and performance requirements.
It is a voluntary, international product standard for community scale resource-oriented sanitation treatment systems, published in August 2020. The standard focuses on fecal sludge treatment through the development of sanitation treatment units. These sanitation treatment units will treat waste at a community level even in places where there are no suitable wastewater treatment systems in place.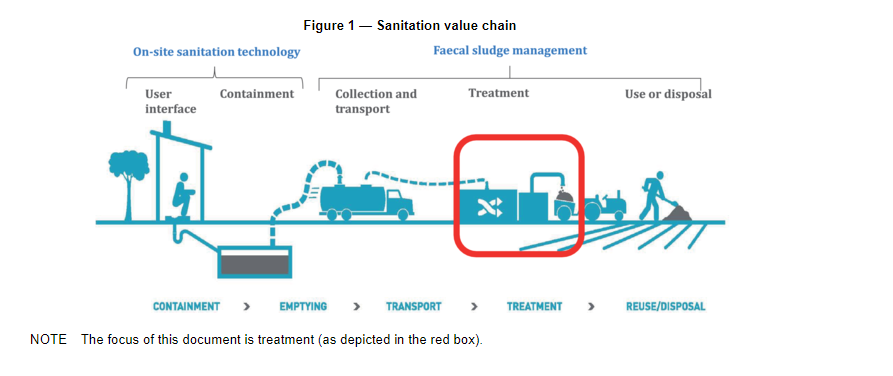 ISO project committee (ISO PC 318) was formed in April 2018 to bring together international experts to build on information and expertise gathered to develop an international workshop agreement, IWA 28, a major step to help realize the potential of community scale sanitation treatment technologies. The committee consisted of experts from 49 member countries, with 31 participating member countries and 18 observing member countries. The American National Standards Institute (ANSI), the U.S. member body to ISO served as the twinned secretariat alongside Association Sénégalaise de Normalisation (ASN), Senegal's member body to ISO.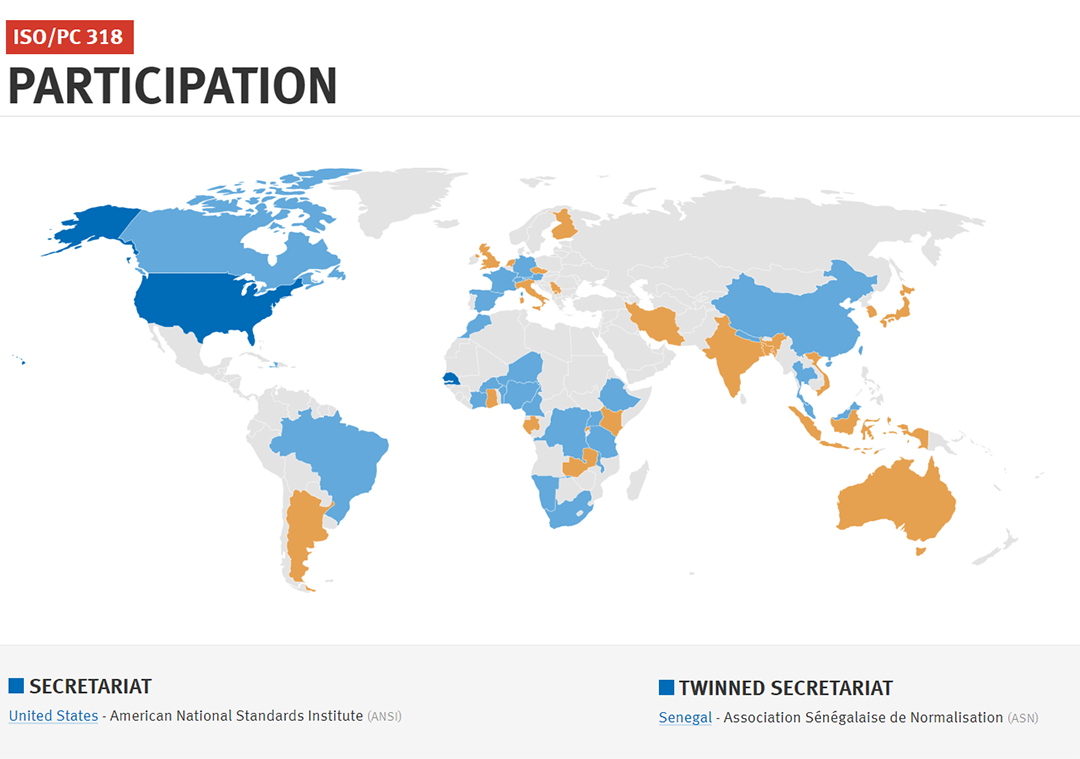 The focus of this technical document on non-sewered faecal sludge treatment units is represented by the red box along the sanitation value chain in Figure 1, indicating the treatment components of fecal sludge management. ISO 31800 specifies performance and safety requirements of community-scaled resource-oriented fecal sludge treatment units serving approximately 1,000 to 100,000 people, ensuring technical robustness and safety in terms of human health and the environment. The standard aims to facilitate the commercialization and transfer of these treatment units into the market.
It contains criteria for the functionality, usability, reliability, maintainability, and safety of fæcal sludge treatment units that:
Primarily treat fæcal sludge,
Are able to operate in an off-grid and non-sewered environment, and
Are prefabricated
Publication of ISO 31800 provides several benefits:
Manufacturers can seek assurance that their prefabricated fæcal sludge treatment units are compliant with the requirements in the standard.
Regulators can use ISO 31800 to develop sounds regulations as ISO 31800 was developed using best practices and reflects a consensus of manufacturers, regulators, and scientific experts from the participating PC 318 country members.
Governments, regulators, and operators can be assured that the pre-fabricated treatment units manufactured in accordance to the standard can contribute to the protection of public and environmental health.