Reinvented Toilet Technology in Development
Nanomembrane Toilet | Cranfield University
Dry Combustion Reinvented Toilet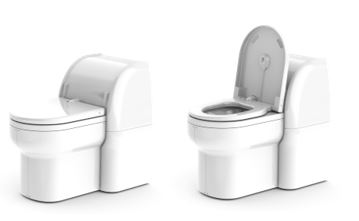 Fully self-contained household toilet system. Frontend resembles a Western-style pedestal toilet with a novel waterless swiping flush mechanism, and all waste processing components are housed within the pedestal. In the backend, solids are extracted by a specifically designed screw, then dried and combusted, while liquids are preheated and purified with a hydrophobic membrane.
Key Features:
Single household system: up to 10 users/day
System design is completely self-contained, no water or power connections are required
Unique waterless flush system minimizes water requirements
Heat from the combustion process is used to drive water through the membrane
System produces clean water each day for household use
Ash requires occasional disposal
Status of Development

Optimized subcomponent performance
Frontend and backend component prototypes developed in Cranfield, UK
Frontend tested in households in Durban, South Africa. Full system to be tested in 2019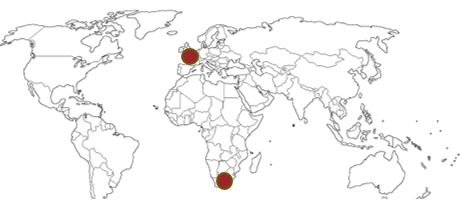 Use Cases
Household:

Designed as a self-contained household unit up to 10 users per day

Multi-unit:

Core processing technology could be scaled for school, or public/community application
Product is Appropriate For: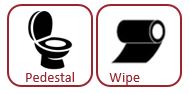 | 10 | TBD | 10 |
| --- | --- | --- |
| Capacity (users/day) | Est. Cost ($/user/day) | Life Expectancy (Years) |
How Does it Work?
1. Frontend
User encounters a pedestal toilet with a unique waterless flush system. A rotating odor barrier and scraper mechanism manages odor and enables dry flushing.
2. Urine/Feces Separation
Solids and liquids are separated by gravity sedimentation. Liquids flow over a weir to liquids processing, while the solids are extracted using a screw.
3. Liquid Processing
A hydrophobic membrane separates clean water from the contaminated urine. The clean water is then sent to a storage tank for later use.
4. Solids Processing
Solids are dried, pelletized and combusted resulting in ash. The combustor being developed is a micro-combustor that can be fed at < 1 g/min of dried fecal waste.
5. Power System
The lifting of the toilet seat powers the bowl. Excess heat from the combustor is used as the driving force for water separation. There are opportunities for electrical energy generation under development from thermal and electrical gradients, to offset residual power requirements.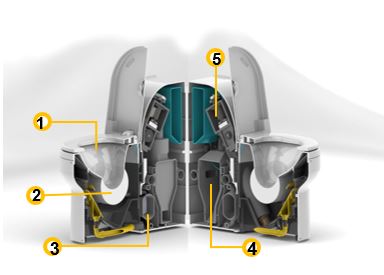 ---
Inputs
---
Does the system require an external source of electricity?
No. Energy is generated mechanically and potentially through thermal and electrical gradients.
Does the system require the use of water?
No
Does the system require any other "consumable" inputs?
No
---
Outputs
---
How much energy will be recovered?
None. Recovered energy is used in process
How much water will be recovered?
>10 liters/day usable
How much fertilizer or other byproducts will be produced?
10g ash/user/day
---
Treatment
---
Solids treatment Combustion
Liquids treatment Membranes
Pathogen treatment success? Confirmed total pathogen removal
Are chemical processes used? No
Are mechanical processes being used? Yes
Are biological processes being used? No
Does the system require any off-site or additional processing? No
---
Business Considerations
---
Estimated daily operating cost (not available)
Estimated capex (not available)
Size L 1.25m x W 0.75m x H 1.0m
Maintenance Requirements Water/ash to be emptied daily (by user). Ash to be emptied weekly, and membranes to be cleaned four times a year
Life expectancy 10 years